Moony Productions follows each step of your audiovisual project, from the pre-production to the final product, considering all your needs and demands.
We are experts who film all kind of videos, drone filming, editing, producing and post-producing. You won´t have to worry about anything: we are ready to listen to your concept and make it real, step by step!
Project Phases
Preproduction
It is the start of the project, the phase where we listen carefully to your idea and together, we decide how will the story be told. We write the storyboard, we decide where to film and we define what will be needed to conduct your idea.
Production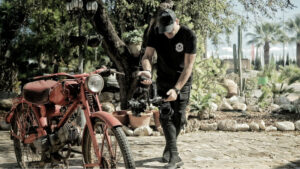 This is the action phase, when we turn your story in images, shooting the scenes and shaping it with the production. We´ll be by your side during this stage, conducting a constant follow-up of your needs, in order for the final product to meet your expectations.
Postproduction
The final phase, in which we edit your video to be perfect. We correct the color, add effects, credits, and everything is needed to obtain a final product according to what you have pictured.
Audiovisual production for every industry
Ad videos
We have an extensive experience in ad videos for every industry. If you want to promote your business or product, do not hesitate to tell us your idea: we will find your solution to make it a reality!
Sport videos
We make sport videos, training videos, videos to promote gyms, and more. If you want to capture your adrenalin moments, we are the producer you are looking for.
Promotional videos for restaurants
In Moony Productions we also make videos for restaurants, pubs and all the food sector.
Let your future clients see how good your dishes look!
Real estate videos
Do you want to make a promotional video for you real estate business or for a property for sale? In Moony Productions we help you highlight every essential aspect of each place, with advanced techniques and air shooting with drones.
Corporate and events videos
Do you want to shoot a corporate video in Mallorca? We help you develop your idea and we shoot your corporate events, to help you transmit the values and the history of your brand.
Wedding videos
We take care of creating, shooting and editing your wedding video in Mallorca, and any place within Balearic Islands. We are near you in every stage of the project, to satisfy your needs and make your special day a great memory.
Videoclips, events shooting and other videos
Are you looking for a producer for your videoclip? Do you want to shoot a video for an event you are hosting on social media with drones?
Whatever your goal is, contact us to tell us your insights and needs: we will be happy to assist you and suggest you the right solution for you!